Massage Therapy is my thing!! I gained an early interest in understanding how simple touch can make a person feel better, and then started my formal education the start of 2006 at Stautzenberger College. I graduated class of 2009, with an Associates of Massage Therapy. I am licensed in the state of Ohio.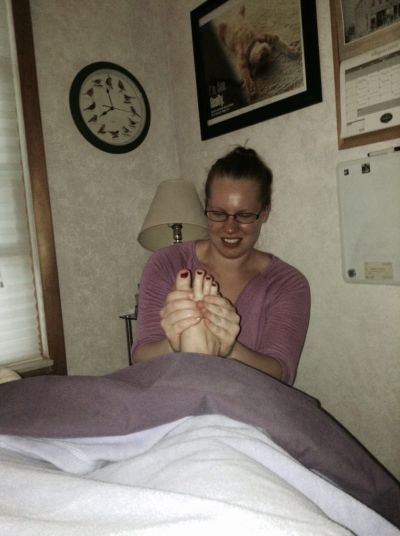 I have continuing education in Medical Massage, Sports Massage Techniques, Kinesio-Tex tapeing, and the nervous system. I hold certifications from the Red Cross in CPR and First Aid, as well as a CPR certification from the American Heart Association.
As a home and mobile based practice, I look forward to setting up a by appointment session with you in the near furture!! Contact me soon!!
May 2016
The weather is finally starting to get warmer!! Which means we can ditch the jackets and start wearing flip flops again!! Just a general hygiene reminder, if you would like foot work done, please make sure the bottoms are not caked with built up dirt. SKP Massage will have baby wipes available for a quick once over, but it is very important your feet are clean.
As it has been a few months since the last update (apologies on that), the new, actual massage office is now located at 6705 Providence St. Whitehouse, OH 43571!! The new office phone number is 567-246-8063, call soon for your next massage!!
Coming soon to this website and the facebook page will be a button that will take you to online scheduling. If you are unable to get ahold of a person within 3 hours of your initial contact and are looking for an appointment time, Stephanie's schedule will now be available 24/7. Also, included in this service is reminder text and e-mails. In trying to reduce no call, no shows, and constant rescheduling of the same appointment, please be sure SKP Massage has your texting mobile number and up-dated e-mail address.
IT'S HERE!!!
https://clients.mindbodyonline.com/classic/ws?studioid=324979&stype=-9&sView=week&sLoc=0
This beautiful month of May, the Flower Market in downtown Whitehouse, has allowed SKP Massage to once again have a $1 chair massage booth. So stop by every Saturday morning, 9a-noon, for a chair massage pick me up!!
Peace Love and Massage!!
Stephanie