Welcome to SKP Massage!! If you are looking for a professional massage therapist, you have come to the right place. Professionally trained in a variety of modalities we would like to direct you to our Services and Rates section to learn more about our various therapies.
Our current location in downtown Whitehouse, Ohio, is beautifully placed along State Route 64. Massage Therapy is our thing!! We opened in 2014, as an at home office, and expanded into an office a year later!!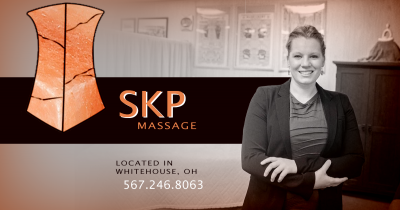 Continuing education has increased our offerings of Medical Massage, Sports Massage, and KT Tape, and we continue to expand upon the modalities we offer!
Stephanie K. Phillips is our full-time therapist. She graduated in 2009, with an Associates of Science Degree in Massage Therapy. She gained experience working at a Chiropractic office, and a chain massage practice. She continues to expand her knowledge for the best ways of assisting her clients with managing their discomforts.
Our front desk is currently supported by Chelsea on Monday and Friday afternoons, and Wendy on Tuesday, Wednesday, and Thursday Mornings. Give us a call and they will be happy to answer any questions you have!!
For our clients convenience, we utilize many forms of media to keep in touch with our new and returning clients, contact us!! (Phone, Online scheduling, email, messaging, fax)
~We are on Facebook
https://www.facebook.com/skpmassage/
~Utilize the Mindbody app
https://clients.mindbodyonline.com/classic/ws?studioid=324979&stype=-9
~Online Gift Certificates (minimum $25, 26.81, 53.62, 80.44, 107.25, Max $150)
https://squareup.com/gift/QFQKP9X3R966Z/order
SKP Massage accepts cash, credit card, check, and H.S.A. Ask us about physician scripts, and insurance billing.
~Currently not ADA Compliant
~Street Parking
~Clients of all ages